his product of Israel is produced by natural solar drying waters of the ancient waters of the Dead Sea dating back to the age of the ancient Egyptians. Bathing in the Dead Sea for health benefits has been practiced for centuries and the Dead Sea is the saltiest water in the world. High in minerals that washed off the highly fertile surrounding ancient lands, the mineral content of Dead Sea Salt is very high. The health benefits of the mineral rich soil of this region in the past was so recognized that Roman considered feeding their legions with wheat and barley from this region was an absolute necessity for the stamina of Roman Legionnaires and why they considered the region of such great strategic importance.
Millions of people worldwide use fine ground Dead Sea salt in their salt shakers and cooking. It also is very popular for spas and hot tubs and is an ingredient in Guardian Of Eden's "Sea Soak." We only use food quality in our Sea Soak. Tens of millions of millions of people use the lesser form in their baths and spas. That usage has all but completely depleted the gourmet grade and the price is rapidly rising accordingly.
This is the most ancient of all sea salts -
so ancient that it actually comes from underground mines high up in the Himalayan Mountains of Tibet between India and China.
How can an ocean sea bed be in the world highest mountain range, hundreds of feet underground?
Most sea salt is either processed from the ocean or sea itself, or from surface or shallow salt mines. As salt mines originated in sea beds, they are found in low spots of the world.
Yet Himalayan Mountain red sea salt is mined from deep underground mines - that are high up in the Himalayan mountain range. This is due how extremely ancient the salt is. Since the ancient ocean dried to form a salt bed many hundreds of feet deep, the entire area was pushed up to make the highest mountain range in the world, with the two massive earth crust plates pushing one over the other across hundreds of millions of years - also then covering over the sea bed with rock. Originating from this ancient ocean possibly at the origins of life itself that even pre-dates dinosaurs, the endless movement of the earth's crust eventually pushed this extremely ancient sea salt bed upon into the Himalayan Mountain range.

For the known history of Tibet, they have followed salt shafts deeper and deeper into the Himalayan Mountains. For millenniums, Himalayan Mountain Sea Salt has been considered to have mystical properties among Tibetans, with this belief travel both East to China and West.

Many claim that Himalayan Mountain Sea Salt is naturally ionized and possesses magnetic qualities that are highly beneficial. The scientific community estimates that the magnetic field of the earth has declined by over 90% across time - the basic for the growth of interest in magnetic field beds, chair pads and even bruising-repair magnetic pads.
Mining of Himalayan Mountain Sea Salt is highly restricted and controlled due to its mystical and spiritual importance of Tibetan religious practices. It is only mined by hand and transported by local salt miners and merchants by hand (carried on Yaks) whose practices date back through known recorded history. Time to time, political and military conflict in the region has cut off the supply.

The mining, transport and trade route of Himalayan Mountain red sea salt to the West has not changed for centuries. The primary point of distribution is the Muslim country of Pakistan and originates back to when the Muslim empire controlled India, which is on the border with Himalayan Mountain range and Tibet. Pakistani spice merchants remain the exports of this rare and unique salt to this day.
Some anthropologists believe the importance given to the color red throughout Eastern history traces back to the mystical and magical qualities given to Himalayan Mountain red sea salt and the highly spiritual Tibetan people whose spirituality had defining and enduring effect upon all Eastern religions. The red color is due to a high iron content of the salt. In it's natural state, iron is red (why rust is red). Most people have iron deficient diets.
Candidly, this is our favorite of all sea salts for most cooking purposes and is the salt in our salt shakers. The taste is unique and pleasing.
It is very salty tasting, so we use notably less salt, while having the benefits of the mineral contents of the Himalayan Mountain Sea Salt.
To read more of Himalayan salt, read: http://en.wikipedia.org/wiki/Himalayan_salt

"Himalayan salts are salts extracted from the intertwining bodies of water deep within the mountains of the
Himalayas
. It sometimes comes out in a reddish or pink color, with some crystals having an off-white to transparent color. It is commonly used for cooking similar to regular
table salt
,
brine
, bath products, and is popular for its therapeutic properties.

A perfect Himalayan salt crystal contains 84 minerals including
Calcium
,
Magnesium
,
Potassium
,
Copper
and
Iron
. The book titled "Water and Salt, The Essence of Life", by Dr. Barbara Hendel and biophysicist Peter Ferreira, made a through analysis of the chemical composition of Himalayan salts."
THERE IS ONE OTHER REASON THIS IS OUR FAVORITE
. Because the source is from deep within the Himalayan Mountain range where it has been trapped for hundreds of millions of years, it has never been exposed to any modern chemicals, toxins, and radiation sources - making it the purest of all salt - processed or sea salt. Because it is trapped within the mountains themselves, the minerals have not been leached out - making it possibly the highest ratio of minerals of any sea salt from which there are health benefits and provides for its highly flavorful and unique taste.
Dead Sea Salt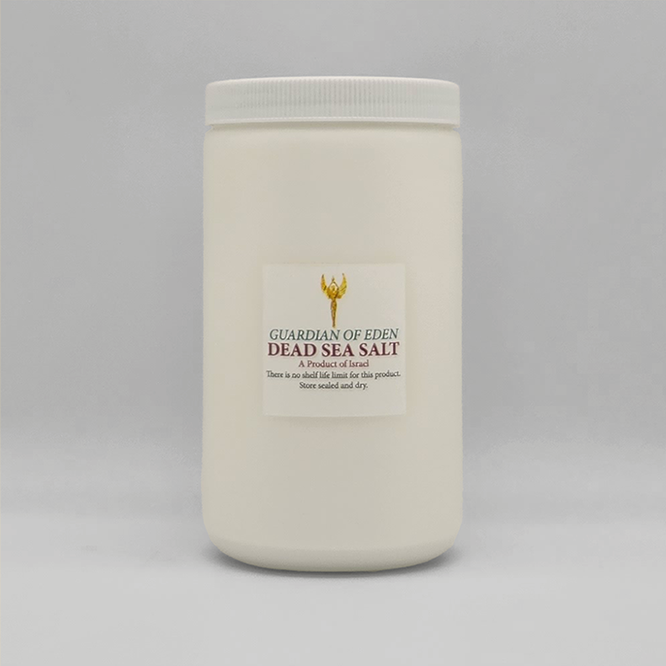 Sea Soak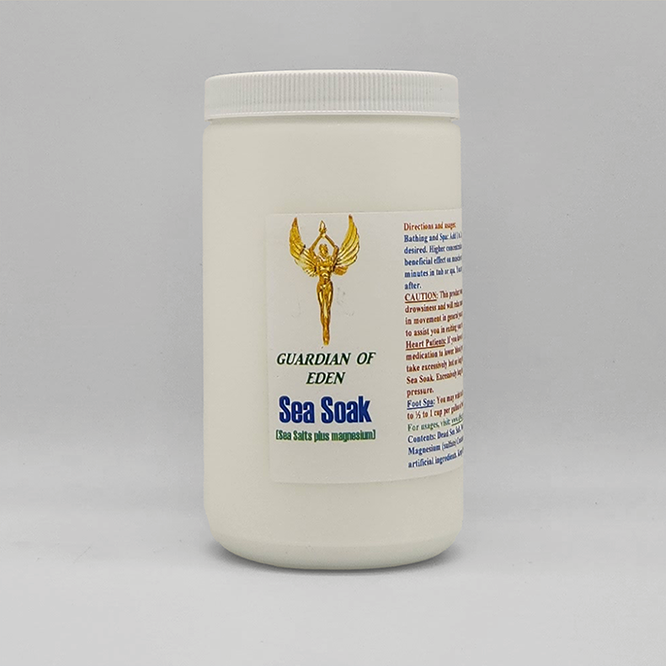 2 lbs Dead Sea Salt
$17.74 Total - includes S&H
5 lbs Dead Sea Salt
$28.73 Total - includes S&H
10 lbs Dead Sea Salt
$42.78 Total - includes S&H
2 lbs Sea Soak
$15.86 Total - includes S&H
5 lbs Sea Soak
$21.57 Total - includes S&H
10 lbs SeaSoak
$30.73 Total - includes S&H
20 lbs Sea Soak
$43.53 Total - includes S&H
40 lbs Sea Soak
$64.09 Total - includes S&H
Himalayan Pink Mountain Salt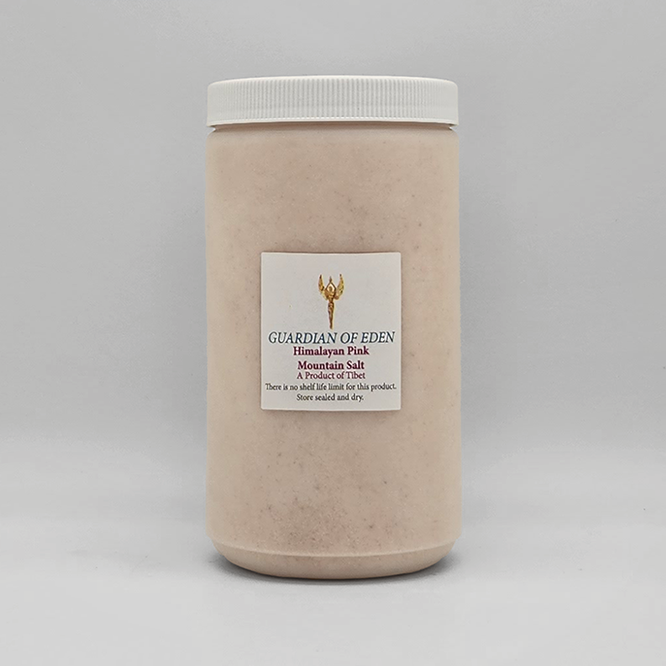 2 lbs Himalayan Pink Mountain Salt
$20.79 Total - includes S&H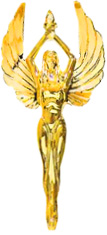 Guardian Of Eden
Gourmet Sea Salts
For Health & Fine Cooking

New Section -

Guardian Of Eden

Health & Dietary Supplements


Visit Guardian Of Eden's Health & Dietary supplements page for G.O.E.'s Jutrian (Brown, Green & Blue), Calcium w/ Vit D & Mag, Mega Vitamins, Hyaluronic Acid, Colon Cleaner, Veggie-Caps & Magnesium. Click here.




Retail

$27.50

Introduction: $18.00


New 2014 Publication - Highly Recommended


2014 True Power of Hydrogen Peroxide
Miracle Path to Wellness


by Mary Wright




I

n over 25 year this is the finest book on the topic of 35% food grade hydrogen peroxide therapy we have seen - and then reveals step-by-step guidance on your personal path of whole health and wellness in specific.





F.D.A. rules prohibit us from endorsing the contents and usage of 35% food grade hydrogen peroxide internally is highly individualized. This book fully presents all information about hydrogen peroxide and then continues to present a specific and easy path to true wellness.





We can state this is excellent exploration material and we highly

recommend

that you read th

e

True Power of Hydrogen Peroxide, Miracle Path to Wellness

.

We will send it to you at no additional shipping charge.




To learn more click on picture of book cover to the left
All Guardian Of Eden Products: Click here
Bath Sea Salt page: Click here
Home Page: Click here
To email us: dfwx22@gmail.com



TO RETURN TO MAIN PAGE & FULL PRODUCT LIST


© 2022 All the materials above are copyrighted by DFWX & Guardian Of Eden and may not be reproduced without express permission.