Wedding Ministers and Justice of the Peace for DFW, Texas - Dallas, Fort Worth, Arlington, Plano, Garland, Richardson, Lewisville, Hurst, Euless, Bedford, Grand Prairie, Cedar Hill, Carrollton, Addison, Coppell, Garland, Mesquite - for Marriage Ceremonies
Officiant for the Greater DFW area (Click for site map)
Dallas - Tarrant - Collin - Denton - Johnson - Hunt Counties - Texas
Justice of the Peace, Christian Minister & Non-Denominational Minister:
For Home, Backyard, Park, Hotel, Gazebo or location of your choice.
These officiates conduct the wedding ceremony you wish.
To visit our HUGE collection of Wedding Ceremony texts and Vows -
Click on the Links at the bottom of the page. This is FREE!
To contact us by e-mail - CLICK HERE!
or call us at (972) 445-1329 for Dallas, Tarrant, Collin, Denton & Hunt Co.
Visit DFW's Newest Wedding Website

Click On Picture Below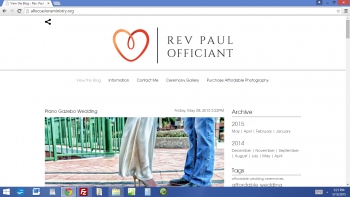 If you need an officiant for your Metroplex wedding -
call (972) 445-1329
Dallas - Tarrant - Collin - Denton - Johnson - Hunt County
To read marriage ceremonies - CLICK HERE or
go to www.dfwx.com
For Affordable Wedding Photography - Click here!


(Click here to Go to Medieval/Celtic Ceremonies - New!)
www.DFWX.com TO BOOK OR QUESTIONS CALL OR EMAIL:
CALL (972) 445-1329 for DFW/ North Texas region

Emails to: revpaul@revpaul.com

Copyright ©: All materials on this site are copyrighted by DFWX and my not be reproduced without express permission. 1998